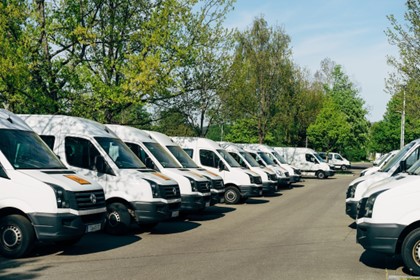 There's an old expression: "Change is the only constant in the universe." That unquestionably applies to industries of all sizes, including rental and fleet managers.
Of course, it's not as if the world were free of change before the COVID-19 pandemic — since that time, the rate of change has only accelerated. For example, traveling patterns have altered, and more people work from home. At the same time, online deliveries continue to place a massive strain on the economy's ecosystem, and pent-up demand for travel continues to explode.
These changing forces have led to massive disruptions in rental and fleet management. How your fleet responds to these trends will ultimately determine your success or failure.
What Economic Trends Are Impacting Rental and Fleet Management?
By and large, the news is very positive in the car rental and fleet management world. From a rental perspective, annual growth is expected to hit 6.7% as more people travel.
Indeed, this is the first major item to note: Global tourism is rising, even if the face of the persistent COVID pandemic. As such, car rental companies can expect their services to be in demand. Moreover, international travel continues to expand, and built-up demand for experiences rather than material possessions seems to push more people into travel.
Emerging opportunities may have a massive and positive impact on the car rental business. This includes:
Self-driving cars may prevent the need for customers to manually drive from one place to another
Green technology that makes customers more comfortable with the environmental impact of using a car
Increases in international travel require potential customers to be more ready to rent a vehicle in many countries
From a fleet management perspective, many trends impact how dealers operate and maintain vehicles. For example, fleet managers must purchase more fuel-efficient cars and increase their reliance on green technology. In addition, self-driving cars may fundamentally alter the need to engage in certain maintenance activities, provided that these cars have the right equipment.
However, there are real threats facing these industries. For instance, the rise of ride-share apps has taken a slice out of the vehicle rental markets, creating an enhanced need for flexibility and increasing inventory tracking demands on car rental companies. Fleet management services may also see reduced requests for their services. For businesses that engage in fleet management as a courtesy to customers — like Dealerships — this reduced demand can mean less need for vehicle stock. These challenges can greatly threaten other businesses, like rental companies.
These potential threats mean that businesses must be smarter than ever. They must make more informed investments to enhance efficiency and reduce costs.
Where Are Their Economic Opportunities?
If fleet management and rental car operators position themselves for success, they can make major and positive investments in their economic future.
In terms of car rentals, domestic and international travel is exploding. In turn, customers need more cars. However, in the face of rising competition from ride-share apps and other programs allowing individuals to drive a car from one location to another, car rental fleets must be prepared to create programs with enhanced flexibility. These trends may require rental companies to engage in shorter price-competitive agreements, provide more flexible locations to return a car, and invest in future-oriented technology.
Fleet managers have similar challenges. Like rental car fleet operations, fleet managers must be more aware than ever of ensuring that their cars are maintained properly. As such, fleet managers must put a premium on knowing when their vehicles need regular maintenance or develop problems that may require them to be taken out of service.
How Can Telematics Help My Business Respond to These Trends?
This rising demand for more environmentally friendly cars and increased flexibility from customers means car managers must prepare for tomorrow's future by investing in technology available today. Telematics can assist fleet managers and rental car companies in adjusting to these modern trends in many ways.
Change is here, but so is opportunity. Your business must invest to be prepared to meet this economic moment. Ready to learn more? Contact us today to speak with Zubie and get a quote on how our state-of-the-art telematics service can help your business.