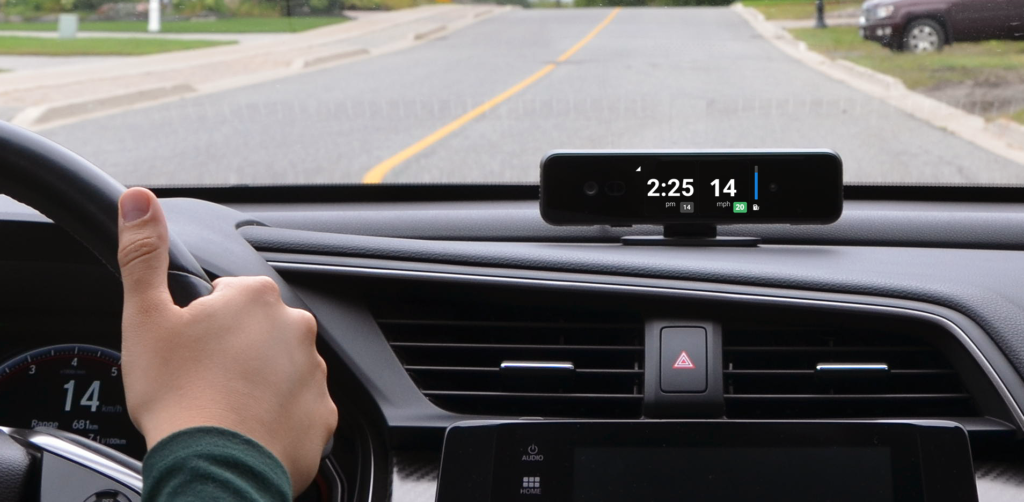 A dashcam is a powerful device that gives you real-time and historic video of your vehicles' activity. Dashcam video allows you to track your vehicles and monitor your drivers' behavior. If you're considering dashcams for your vehicle fleet, Zubie offers the best combination of features, utility and service of any telematics provider.
This comprehensive guide outlines how dashcams work, how they can improve efficiency, save you money, and why Zubie offers the best commercial dashcam available for your industry.
What is a Dashcam?
A dashcam (dashboard camera) is a small recording device that mounts inside a vehicle and records events inside and outside of that vehicle. It can be used to identify vehicle location, road hazards and dangerous driving behaviors. The footage can be stored and reviewed to help fleet managers better manage their vehicles and their drivers.
Zubie Dashcam is an easy to use video data solution that gives fleet managers front-facing and in-cabin visuals and delivers the video on the same simple-to-use software platform that many Zubie users currently enjoy. Simply use our powerful application to organize and analyze all of your video and telematics data.
How Do Dashcams Work?
Zubie Dashcam begins recording when the engine turns on. When your cameras detect certain driving events, they will automatically upload the video to the cloud for your fleet managers to review. These events include: 
Collisions 

Hard braking 

Aggressive acceleration
You can review your video in the Zubie platform along with other fleet and telematics data. Not only do dashcams give insight into what's happening inside and outside the car or truck, but they also provide a detailed GPS history of where your vehicles have been along with other important telematics data. All of this reporting information can be customized on your Zubie web interface.
What Industries can Benefit from Dashcams?
From delivery and security to shuttle bus and luxury transport, Zubie Dashcam includes everything you need to track and view your most important assets. You'll keep your employees on schedule and your passengers safe. Zubie Dashcam monitors both the road and vehicle cabin to curb distracted driving and protect passengers, pedestrians, and drivers. 
Industries that can benefit from a car or truck dashcam:
Delivery

Trucking

Limousine transportation

Landscaping

Construction

Agriculture

Schools

Dealerships
Is a dashcam right for your company's vehicles? Contact our team today and find out how we can make your fleet work better for you.
Do I Need a Dashcam?
Zubie Dashcam, is a video data solution that gives fleet managers front-facing and in-cabin visuals and delivers the video on the same simple-to-use software platform that Zubie users currently enjoy. With live footage always available, you'll never have to second guess what happened during a collision or driving incident. Hold your employees accountable and provide concise records for your insurers. 
Live video streaming allows fleet managers to have a 24/7 view into their fleet vehicles in real time. You can proactively monitor your driver's behavior. Risky behaviors such as hard braking, rapid acceleration, or excessive speeding, are opportunities to educate your drivers and avoid accidents and the significant expenses that can result.
Distracted driving causes 14% to 17% of all crashes, according to Business Fleet. Zubie Dashcam will give you the reassurance you are looking for and if your drivers know they are being recorded it will encourage safer driving habits. When an event occurs, you will be alerted by an event trigger via email or through a notification on your mobile device if you use Zubie's Mobile App. 
Additionally, with live video streaming fleet managers can know where their drivers and vehicles are at all times. This insight plays an integral part of customer service by making sure drivers are arriving at jobs on time.
How to Buy The Right Dashcam 
How do you know that you're getting the best dashcam for your needs? These are questions to ask yourself and your vendor:
Who is your Dashcam designed for?

How high is the video quality?

How easy is it to install your dashcam?

How does your dashcam integrate with your software?

What kind of customer support is offered?
Visit our dashcam buying guide for more information on how to choose the right dashcam for your business. 
Why Zubie Offers The Best Dashcam for Fleets
Zubie Dashcam is a single piece of hardware that provides both telematics GPS tracking and video delivery functionality. With Zubie Dashcam, you'll only have to implement a single device into your vehicles where in most cases you'd have to implement both an OBD-ll and Dashcam device. You avoid separate power sources and additional cables with our all-in-one solution.
Zubie Dashcam installation is simple and should take you only a few minutes. The technology process is the same as OBD-II: simply plug and go. Once your dashcam is installed, take your vehicle for a spin and get an invaluable stream of video and telematics data in our simple-to-use platform. Our support team is always ready to help when you run into difficulty. 
If you're a current Zubie customer, our interface makes it simple to upgrade to high quality dashcam video without losing any of the other data you've come to depend on. Simply remove your old hardware and install the dashcam. One piece of hardware delivers all the data you need.
What Features Does Zubie Dashcam Have?
HD Video: Live & Recorded
Zubie Dashcam begins recording immediately when the engine turns on.  The front-facing camera records 30 fps @ 1080p, and the cabin-facing camera records 30 fps @ 720p with a 256 GB SD card that gives you continuous loop recording for up to 60 hours. 
Stream live video from your fleet's installed dashcams to see what's happening in real-time. View critical events with automatic cloud uploads that include nighttime and dark environment capture for both road- and cabin-facing cameras. Review and archive trigger events and collisions for insurance records.
Real-Time Fleet Tracking 
Experience world-class telematics, including a live map, detailed trip history, and geofence alerts.
Driver Performance Reporting 
Improve driver and vehicle safety using high-risk behavior alerts and comprehensive reporting. Educate your drivers and add context to driving incidents. 
Improve Passenger & Vehicle Security
With cabin-facing cameras, you'll always know what's going on inside the vehicle as well as outside. Zubie fleet dashcam captures video of drivers, passengers, and vehicle contents, giving you a visual record of who and what is inside your vehicles.
Vehicle Health
Proactively manage vehicle maintenance with real-time vehicle health alerts. Zubie Smart Maintenance is the most efficient way to track, manage, and pay for service. You'll reduce vehicle wear and decrease your repair costs. Use our nationwide network of 26,000+ trusted shops to schedule your next check. 
Experience the Zubie Dashcam Difference
Zubie makes the most advanced and easy to use commercial dashcam for fleet operations of all kinds. We back our products up with expert customer support and free trial. Contact Zubie today for a short demo on our dashboard camera's features. Learn more about Zubie Dashcam here.