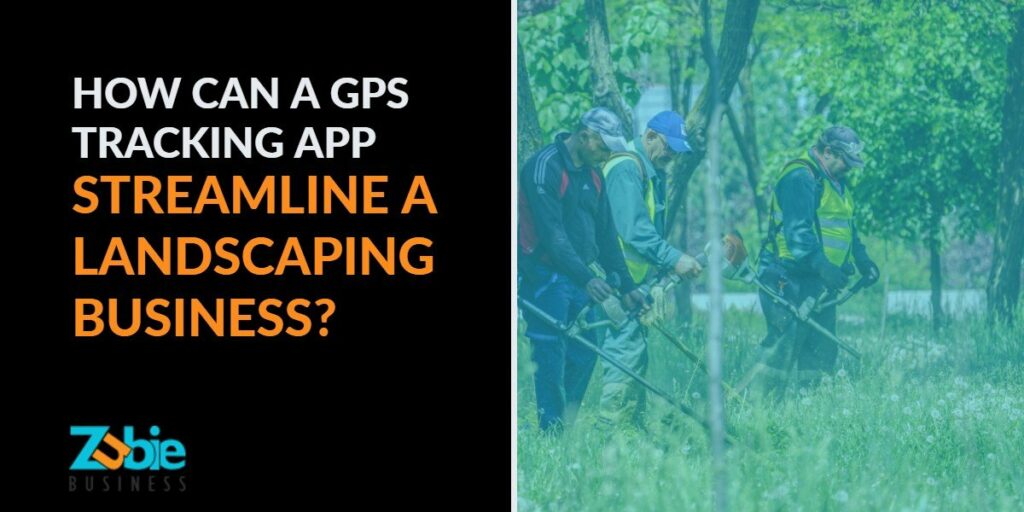 While the weather isn't always pleasant throughout the entire year, numerous homeowners and communities will utilize landscapers heavily throughout March to early Fall. With the middle of the summer being the busiest time of the year for landscapers, many landscaping business owners will try to find a way to most easily manage and automate their business to free up their time to take care of or find more clients, as opposed to simply taking care of any issues that may arise out of nowhere (as they can tend to do with any business). One great key to streamlining your landscaping business is through fleet tracking and a GPS tracking app. There is no need to worry about the expenses as Zubie prides itself on low cost and no contract agreements; on top of an app with a beautiful simplicity that anyone can use.
Here are 5 keys on how a great GPS tracking solution like Zubie can help streamline your landscaping business.
Updated Arrival And Departure Times
Now, make no doubt, we've all heard of that contractor or company that told us their employee would be at our house somewhere between (on a weekday nonetheless), only oh …. 9am-10pm. Jokes aside, this is still an issue many have seen. Zubie can be programmed to update your customers on your crews' arrival or departure time should they arise into any issues, like traffic on a bridge or an accident on a local road. Automated and easy, it takes the hassle out of the process (not to mention frustrated customers).
Geofencing
This goes into the next way that Zubie and a great GPS tracking app can help your landscaping business. You can set predefined geofences for your crew to ensure that they stay on course for the work, as well as where they are supposed to be. Not only can this help you by automating your time cards, you'll be notified by email when your workers arrive to work or other locations.
This will not only help ensure that your workers are honest and diligent in their work, but it will also ensure you of peace of mind when your workers are out on assignment. Should any customers state that your employees did not show up on time or didn't show up, you'll be content with the satisfaction of knowing where they really were or are. You won't have to waste time and money dispatching them back to confirm or verify that the work was done. Not only can you be assured that your workers are doing what they're supposed to, you can now focus on what really matters; which will be running your business on the back end while your teams are taking care of clients on the front end.
Prevention of Theft
Your trucks and vehicles likely tend to have a vast amount of equipment with them, whether that's mowers, chainsaws, power tools, sprayers or windblowers; these altogether are not inexpensive items. When it comes to a landscaping business (as compared to a normal fleet operation), if anything happens to one of your vehicles; its not just the vehicle you're worried about-it's the equipment as well. With the abilities of a GPS tracking app like Zubie, you can rest assured that if any of your vehicles are ever stolen; they will be easily tracked and found. You won't have to call the police and wait wait wait; you can now even call them, tell them where your vehicle actually is, and get it back all that much faster. There's no need to sit there, fret, and miss a meeting with a client cause you're trying to figure out what happened. Let Zubie and it's GPS tracking ability give you peace of mind.
Fuel Efficiency and Vehicle Health: Metrics, Metrics, Metrics
Now, while gas prices are not exactly what they were in the mid 2000s; they can still cut into costs depending on the size of your fleet. Zubie will be able to help you track a variety of metrics when it comes to ensuring the health of your vehicles, assure proper utilization, and ensure that you are proactive in the management of your vehicles. Whether it's tracking miles per gallon, idle time, hard braking or rapid accelerations; Zubie can track a measure of metrics to ensure that your vehicles are operated well and that their maintenance is priority; further saving you money and time. Should you even have an issue arise with your vehicle, Zubie even contains over 100 diagnostic codes which will tell you whatever issue your car is having; instead of you or any of your workers having to figure things out on your own.
Operating any business is not always an easy venture with many ups and downs. Managing a fleet operation is not any easier, as now you have to worry about your vehicles as well and not just your people. Whether it's the location of your car or the health of your vehicles, Zubie is able to assist any landscaping business owner streamline their business, improve customer satisfaction and cut down costs.
Find out how Zubie can help streamline your landscaping business today.
{{cta('59527620-1028-40e5-97f3-2df52ba7c011')}}