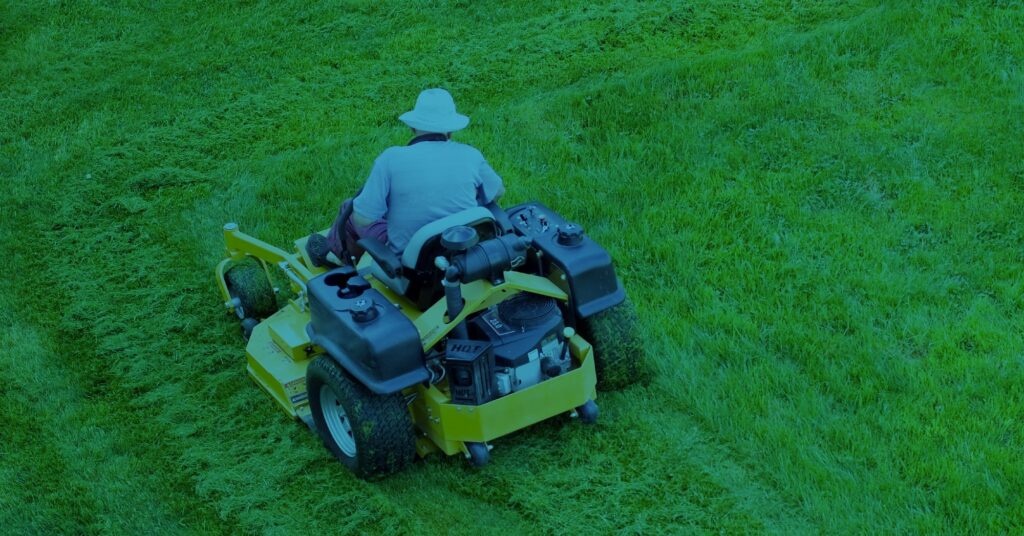 Landscaping companies know better than most that time is money. The seasonal working conditions are frequently impacted by inclement weather, which makes it crucial that employees are productive throughout the day. Zubie Dashcam gives you the ability to remotely check in on your crews, view the health of your vehicles, see if your drivers are distracted, and optimize your business operations by knowing where your fleet is at all times.  You have visibility into critical events with live streaming audio and video, nighttime and dark environment capture for both road and cabin-facing cameras.
Is my crew on task?
Being able to see when your crew has started a job, where they have stopped, and when they have arrived at, or left a job site, provides incredible value in managing your costs and productivity. Being able to view video from both the road and cabin facing cameras, whether moving or parked, allows you to check in periodically. Zubie Dashcam event images and cloud video can also show you who showed up for a particular job, or is the team covering for an absent employee, supporting payroll administration and employee management.
Was the job finished on schedule? 
Using Zubie's geofence feature, you can quickly create geofences around one or more current job sites. You can receive real-time alerts on your mobile device when your team arrives, departs, and the dwell time at each location. This gives you the confidence to know when a job was started and when it was completed. This data will notify you of any gaps especially if you know a job well done takes 45-minutes and they only stayed there 15-minutes.  Zubie also logs trip entries for Geofence events so that you can review these on a historical basis.
Never Miss a Job by Staying Ahead of Vehicle Health 
It's important to know when a vehicle requires maintenance to prevent costly repairs down the road. Zubie's vehicle health data can help you ensure your vehicles are running efficiently by sending alerts directly to you when there are issues, or simply when your vehicle needs preventative service that can be scheduled out a few days or weeks. 
Zubie monitors vehicle utilization, mileage, and fuel levels so you can be prepared for trips to every location and never miss a job. 
Reduce Risk by Training Safe Driving Behaviors 
Another type of data available to fleet managers is driver behavior. Zubie tracks and stores data on the number of hard breaks, idling time, and rapid acceleration. Zubie can send alerts to your mobile device when these aggressive driving behaviors occur. You can avoid excessive wear and tear on your vehicles, especially when hauling equipment trailers. Managers can use this information to have transparent conversations with drivers about safe driving habits. 
Protect Your Valuable Assets with Zubie Asset Trak 
Asset Trak is a device that tracks all your heavy equipment in the Zubie platform. The best part is the device is magnetic or can be attached using brackets. If you recently added lots of landscaping equipment to your fleet, the installation will be very quick. It's as simple as attaching the device anywhere on the equipment and letting Zubie do the rest. 
Zubie Asset Trak is the total solution for protecting your landscape equipment against theft. As you move your large sprayers, lawnmowers, trailers , etc. to many customer's properties day-to-day, Zubie Asset Trak provides you with their real-time location, so you always know where they are. Geofencing allows you to monitor your asset's usage by tracking trip locations, setting up boundaries for restricted areas, and creating alerts for when assets are moved when they shouldn't be, like afterhours remote lots. If your equipment happens to be lost or stolen, Zubie Location Link will share the location of the lost asset with local police or recovery service to assist in a swift recovery. This feature saves you time searching for a lost asset and the cost of replacement. 
Are you growing your business? 
Managing multiple remote teams is challenging in the best of circumstances. Zubie can help take the guesswork out of managing your operations while at the same time providing greater accountability to your customers. This will ultimately attract new customers and higher caliber employees, committed to the success of your business. We protect your business by providing features that give you vital insight into your vehicle health, driver performance, and equipment location 24/7, all in one simple and easy to use platform.