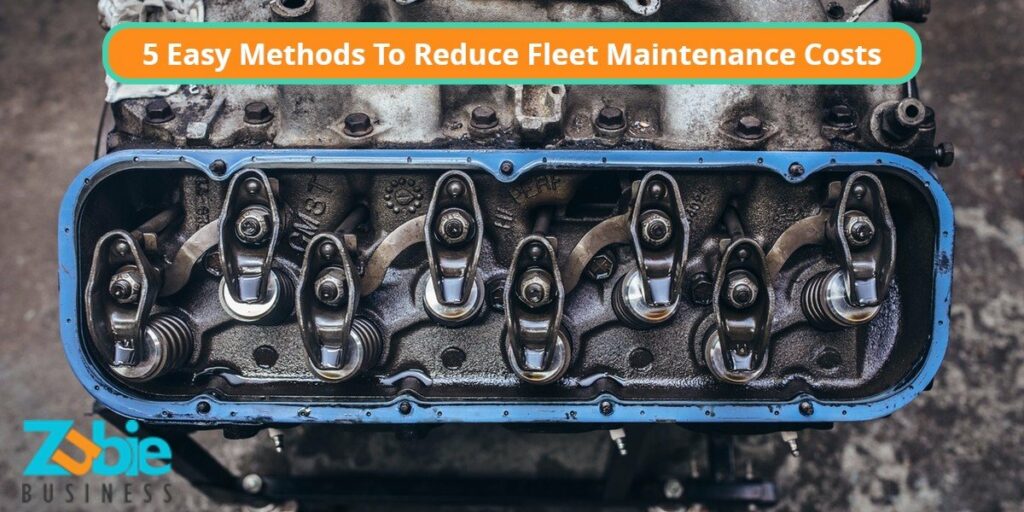 5 Easy Methods to Reduce Fleet Maintenance Costs
When it comes to running a fleet business as a business owner, there are numerous intricacies to be aware of. Not only do you have to make sure your business is operating profitably and ensure that your drivers and employees are the right people for your team; above all else you have to be sure that your vehicles are being fully optimized in a way that ensures they are making you the most money. Not only do you have to be diligent in how they are used (utilization), you also have to be sure that they are being maintained in the best way possible.
After all, a poorly maintained fleet can cost you money in a number of ways. Should an unseen issue arise with one your vehicles you could lose time (and money) on the following:
Less time to deliver other goods (or services) while waiting for the vehicle to be taken care of. This will minimize how much money that vehicle is then capable of making. This will also mean you're paying your workers for extra time that is not spent producing, hitting you even further financially.

The time it will take to figure out what is going on with your vehicle, and directly following up clients (and not in the good way either, letting them know things could be delayed or delivery time is later than it's supposed to be).

The time it takes to get the vehicle

actually

taken care of, and follow up to ensure it's indeed okay-which is again less time with your clients or other projects.

Having to get someone else on your team to figure out the situation or possibly help out your fellow employee, which is less time they could be working on other items as well.
If your vehicles are not properly maintained, and not done so in a proactive manner; it can lead to issues for not just your driver and yourself, but also fall down onto other members of your team. This does not always need to be the case when it comes to having Zubie on your side.
The following is a list of 5 methods that Zubie will help you in reducing your fleet maintenance costs:
Preventative maintenance
With Zubie, there are a number of reminders you can set for your vehicles to ensure that they are always well maintained. This really is as simple as just set and forget it. You can set these reminders for either a time in the future, or connect it with a certain mile limit with a vehicle's odometer. These reminders can be for any of the following:
Battery Replacement

Tire Rotation

Fuel Filter Replacement

Brakes

Oil Change

Tire Replacement
     2. Maximizing vehicle utilization
Zubie can pull data in how you are optimizing the use of the vehicles in your fleet. Should one vehicle be used far too often (and therefore getting worn out faster), compared to another one in your fleet that barely gets any love from your drivers-Zubie can keep you aware to make sure you truly are optimizing your vehicles. Maintaining a balance and ensuring your vehicles are optimized will save you money and time to ensure you are getting the maximum value out of all your vehicles. This 10,000 foot overview of your fleet business will ensure you are saving as much as possible, and keeping your business as smart and lean as possible.
    3. Hard Stops
While Zubie can track a multitude of metrics, a few come to mind when it comes to vehicle maintenance. One of these is hard stops. Now while Zubie can measure and track a lot, you can rest assured that the software will not badger you with a driver occasionally performing a possibly bad behavior. Zubie nonetheless will begin to catch when these behaviors start to become egregious and you can set this (and a number of other alerts) with predefined limits and ranges. This type of behavior (hard braking) will begin to cost you as hard braking affects your tires, as well as can cause issues with the brakes in the vehicle or possibly the rotors on your wheels.
     4. Immediate identification of car codes
Now, while Zubie has great preventative maintenance features, it also will be your (and your drivers' superhero) when an actual issue does arise with your vehicles. In this aspect of Zubie, before you even know your car has issues-you will be alerted to your car's problems  and will already know which code (issue) your car is having and Zubie will duly alert you. Whether you're in your office or on the run and taking care of clients or operating from a mobile office, Zubie can alert you with an email notifying you with what's going on with your fleet. You won't have to spend further time figuring out what the issue can be, and already will save time in diagnosis and being able to take care of the issue that much faster (saving you both time and money).
     5. Mechanics to turn to for help
Now, should your vehicles have issues arise at any time during the day (or night), Zubie will already pull the codes from your vehicle's engine and a description describing what exactly this issue is. Here is where things get interesting though….Zubie is partnered with Repair Pal, so you will already be alerted to mechanics in your local area who can fix the issue your car is having. You won't have to go around, shopping for which mechanic can take care of whichever issue you're having, spending time figuring it out and trying to take care of things….Zubie already does this all for you.
Stop wasting your time trying to figure things out and making sure your vehicles are optimized and well maintained. You need to be connecting with clients and taking care of the issues that really matter when it comes to optimizing your fleet business, not wasting time figuring out why your vehicles aren't running right.
Come learn more about how Zubie can help you reduce your fleet maintenance costs and accelerate your Fleet Business.
{{cta('4ac145fe-b7fa-4307-9082-1b6b12fc79c8')}}