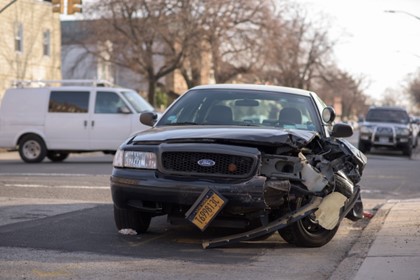 A car accident is every driver's worst nightmare. From a fleet manager's perspective, car accidents — obviously safety concerns aside — can simultaneously cost business and cost money. On the one hand, car accidents can often cause individuals to need car rentals while their car is in the shop. In that way, like it or not, car accidents drive more business to rental facilities.
Of course, fleet managers also have safety and vehicle health concerns to monitor, and a car accident with a rental can cause major headaches for everyone involved. As such, it is incumbent upon every fleet manager to do everything they can to keep their cars safe and protect the passengers who rent them.
So, what's happening in the car safety world, and how can your fleet respond to these trends?
Overall Car Safety Trends
Driving habits changed with the pandemic, and the miles driven nationwide went down. So, car accidents and fatalities changed, too…right?
Well, unfortunately, no. 2021 saw the highest level of car accidents and deaths from car accidents in twenty years, and those numbers appear to be getting worse. It's worth noting that these changes occurred despite more people working from home and not commuting to the office, one of the most common times that people get into car accidents.
What is causing this lack of change when it comes to driving safely? Many factors are theorized, including:
Technology plays a distracting role in our lives, particularly as people are still relatively likely to check their phones while driving.
Increases in fatigue. People are sleeping less, and fatigue is a major factor in car accidents.
Alcohol and drug use, both of which rose during the pandemic and continue to approach record highs.
The good news? Technology is rapidly evolving to address these issues and increase safety on the road.
Technological Changes That Are Impacting Driver Safety
The automotive world has never been one that rests on its laurels, and a near-constant stream of technological upgrades has made vehicles and drivers safer. A variety of technological upgrades are now helping to improve safety. These include:
Automated systems: In big and small ways, automation positively impacts driving. For example, automated emergency braking can stop a car from crashing when it detects an object in front of it. Other automated systems can alert drivers when someone is in their blind spot, help keep drivers in a lane, or even park without any driver input. These systems still need quite a bit of tweaking, and we're still years away from fully automated cars. However, the movement towards more automated driving functions can unquestionably reduce human error.
Cameras: Reverse crashes are extremely common. Thankfully, all new cars have rear-view cameras that give drivers a much better view of what they are approaching as they reverse their cars. These cameras can protect users and ensure that items that are otherwise invisible — like a bike or a child — are seen.
Maintenance alerts: Having a car that can inform you of potential maintenance issues is nothing new, but the evolution of this arena — combined with how fast solutions are being centralized — can be very beneficial. Maintenance alerts are becoming more customized and specific, allowing car owners a better chance to respond before an issue becomes a major problem. Furthermore, technology now allows maintenance issues to be reported to a central monitoring system. These changes allow fleet managers to repair cars before safety problems develop.
How Your Rental Fleet Can Respond
Car rental fleets face the same dangers as any other driver, as there is always the danger that renters will get into a car accident with a car in your fleet. In fact, the newness of the car to a driver, combined with a potential lack of familiarity with an area, may even increase the odds of getting into an accident.
This driving pattern begs the question: If people really are getting into more accidents, how can you protect your cars and your renters?
Use the latest technology: A massive analytics suite is now available for car rentals and fleet managers. These technology options enable granular and system-wide tracking of cars, allowing you to ensure your drivers are safely operating your vehicles. They can also monitor trends and allow you to make system-wide changes, as needed, to protect your entire fleet.
Upgrade your fleet: Cars built today are significantly safer than just a few years ago. You may want to consider upgrading your older fleet with newer models. Such upgrades are not cheap, of course, and it may mean that you have to deploy additional technological measures to track the value of your vehicles.
Monitor driver behavior: Some drivers are simply riskier than others. Using some technological tools, like GPS tracking, can allow you to monitor driver behavior and ensure that your drivers are not operating your vehicle in a reckless manner or driving somewhere they shouldn't. If they are, you and the driver can receive instant notifications to prevent additional issues.
Protect Your Fleet: Partner With Zubie
The technology involved in car safety is changing, allowing you to protect your fleet by incorporating the latest tools. At Zubie, we can help. It doesn't matter if you are interested in tracking your vehicles, acquiring dashcams, or monitoring your vehicle's health: We have the tools to protect your customers and your cars.
Ready to learn more about how Zubie can help you deploy the latest tech? Contact us today.