How Zubie Smart Maintenance Works
Smart maintenance is a fleet management tool that monitors your vehicles' maintenance history and allows you to schedule service when needed. Let's look at these features in greater detail. 
Maintenance Reminders
Managing ongoing maintenance has always been a challenge for fleet managers. Unless there's a check engine light or TPMS indicator telling you about an impending need, many of us (privately or as businesses) simply don't check our maintenance schedules.
Zubie's maintenance reminders track your car's essential service needs and alert you via email or mobile notification when they are due. Since Zubie tracks your mileage, activity and driving habits, the reminders are always accurate and timed to your exact driving needs. Interactive reminders allow you to flag completed tasks when you've proactively dealt with them. A service diary tracks all your maintenance for easy reference and review, such as when you sell your car.
When you have multiple vehicles on different maintenance cycles, keeping track of repair or service schedules can be taxing. Smart smart maintenance gives you a dedicated space to enter and track all your reminders as well as get discounts on services.  Set reminders to let you know when you need to:
Rotate or replace the tires

Check or replace the brakes

Change the oil

Replace the fuel filter

Replace the battery
On the Spot Diagnostics
Even with scheduled, preventative maintenance, your vehicles may still have unexpected breakdowns or issues. Even more frustrating is not knowing the exact underlying reason for these breakdowns. Zubie Smart Maintenance gives you the answers you need. 
For example, if the check engine light turns on in one of your vehicles, Zubie Smart Maintenance will alert you via text and include what the code means based on the vehicle's engine diagnostics. This insight gives you the information you need to immediately schedule the appropriate service and get estimates for how long it will take for your vehicle to be fixed.
Online Scheduling
Has a vehicle suddenly broken down? Do you need to schedule a preventative maintenance appointment? Zubie makes scheduling all appointments easy online or via the mobile app. You can also pre-set approvals, so if the vehicle driver knows they need a certain service, you can automatically authorize them to schedule it at their convenience. 
Maintenance History and Fleet Health Accounting
Make budgeting and reporting easier with Zubie's comprehensive vehicle maintenance log software. You can monitor your vehicle's health by checking reports regularly. These reports include complete fleet maintenance history based on actual invoices. Having a detailed portal into your entire fleet's health allows you to proactively manage your business.  Save time and money instead of worrying whether your vehicles are roadworthy and can get to jobs on time.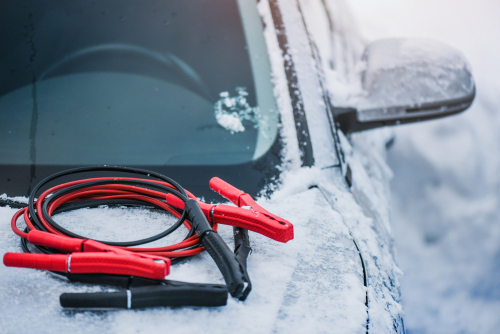 How to Check Vehicle Battery Health in Winter (and all year)
The battery is a vehicle's main life source. All other major systems depend on it to function. Winter weather can make maintaining optimal battery health difficult. In fact, car battery capacity drops about 20 percent from normal in freezing weather, and down to about 50 percent when temperatures sink even further. Zubie can help keep the cold from slowing your operations.
Sub zero temperatures can add stress and wear to your battery and increase the chance of it failing. Operators using Zubie's intuitive fleet vehicle maintenance software can take a proactive approach to maintenance by monitoring battery performance. You'll drastically decrease the likelihood of drivers literally being left out in the cold. 
Recharge or replace your faulty battery at a trusted service shop from the Zubie Smart Maintenance App. Fleet operations can easily compare prices across local shops to get the best deals on batteries and related services. 
How Zubie Smart Maintenance Saves You Money
If you're still not convinced that Zubie offers the best vehicle maintenance software available, consider how it can save your business serious money. Zubie customers see a huge increase in ROI by using a Nationwide network of more than 25,000 trusted service shops and big-fleet discounts. 
This includes some of the biggest brands in service, like Jiffy Lube, Pep Boys, Firestone, and Aamco just to name a few. When your vehicle needs service, Zubie Smart Maintenance connects you with a convenient service shop close to you. With Smart Maintenance, we've pre-negotiated "big fleet" pricing to save you big bucks – 26% on average!
Zubie's Chief Revenue Officer, Mark Novak, explains in detail what Smart Maintenance brings to the table.
"With over 35,000 vetted, fleet-friendly shops around the country, Zubie's network makes vehicle maintenance easy to locate no matter where your driver is. Fleet owners can also rest assured that service will be performed by a trusted brand."
Try Zubie Smart Maintenance Today
Zubie Smart Maintenance is a simpler way to manage your fleet and lower your costs. See how easy it is to install and integrate Zubie's platform within your existing operation. Smart maintenance is available to Fleet Connect customers on the premium plan. Reach out to a Zubie representative to learn more about a free trial.