The latest update to the Zubie app is now available, and has a couple of great new features and numerous improvements. Your feedback has been instrumental in driving our product roadmap, so please keep it coming via email, twitter (@GoZubie) or on our community forum.
Merging of Trips
Multiple trips can now be merged into a single entity. Browsing and organizing trips has always been a core feature in Zubie and indispensable for many users. Previously, this had relied only on ignition on or off to determine when a trip began and ended. This meant that a stop for gas or a brief stop at a convenience store would essentially break up a long trip into unnecessary multiple segments. The new merge feature allows you to select and merge trip segments individually or by day, and makes it easier for tagging and reporting. The merge is fully reversible so no details are lost about the trip segments. This feature also helps to overcome issues with some hybrids and vehicles with start/stop capability. There are more exciting things to come in this area as we expand on the notion of a trip and the information associated with it.
Fuel Finder
Gas stations and prices are now incorporated into the experience as we expand on the fuel-level monitoring features introduced in the last version. Fuel level displays and alerts are now linked to a Fuel-Finder screen that displays nearby gas stations and fuel prices. We hope you find this a convenient feature that also saves you a few bucks on fill-ups.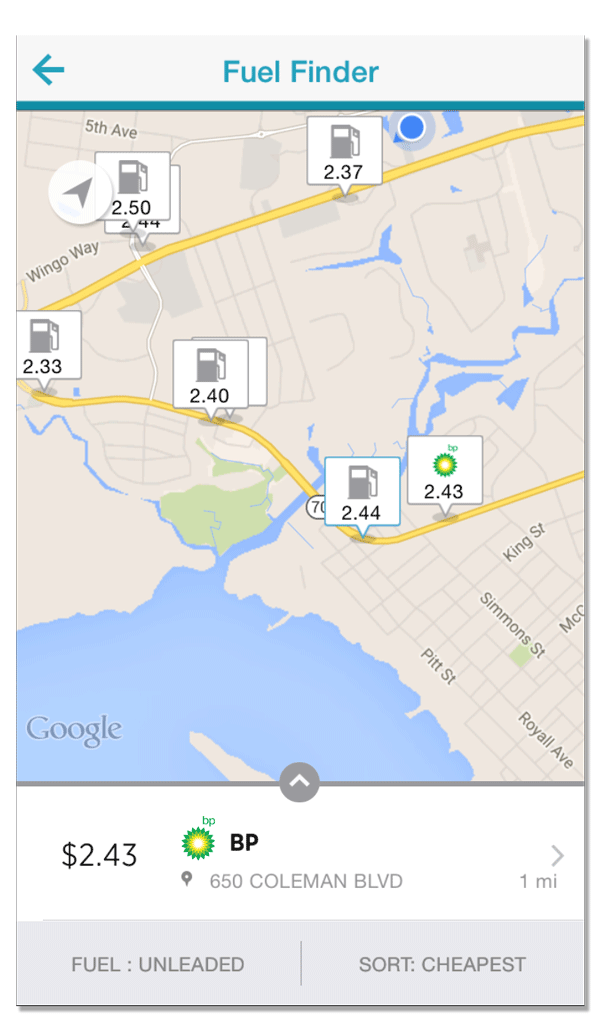 Emergency Alert
A new alert notifies you of extreme braking situations that are indicative of emergency maneuvers or a potential crash.
Other improvements
We've also made numerous improvements to location accuracy especially in situations involving weak GPS signals such as underground garages. The Live Map animations and refreshes are now slightly faster. And perk notifications sent via email or push messages can now easily be redeemed in a single step on your mobile app.
More to come
We're already hard at work on the next update which brings some great new insights into your car and cool new features for driving. In the meantime, please check out the new features in this update and let us know what you think!