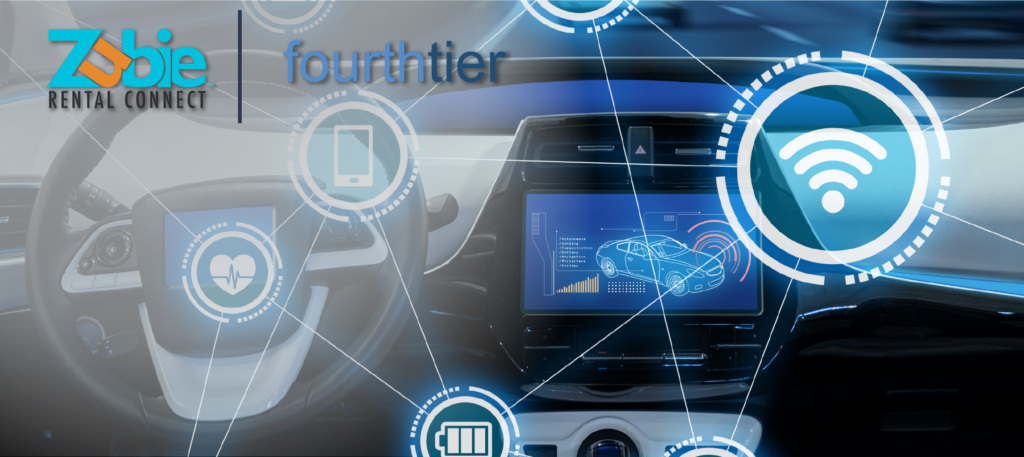 BLOOMINGTON, MINN. (May 18, 2022) — Zubie, a leading connected vehicle and telematics provider, announced a new partnership with Fourth Tier, a rental management systems provider with high end software and mobility solutions. This partnership enhances Fourth Tier's existing platform, Era, by providing advanced telematics capabilities under one easy-to-operate dashboard.
This is an important partnership for FourthTier said Andy Pratley, Head of Global Sales & Partnerships for Fourth Tier, customers are gaining a wealth of new features from Zubie. Specifically, Zubie's Rental Connect Solution allows Fourth Tier customers to simplify day-to-day operations by automatically reporting vital metrics such as odometer and fuel readings, streamlining the overall rental check-in process. Customers will also have access to additional reports that provide valuable insights to assist rental companies in improving their business.
Zubie's Chief Revenue Officer, Mark Novak, explains the value of this partnership in greater detail, "Zubie Rental Connect integrates seamlessly with Era, Fourth Tier's RMS, allowing rental operators to elevate how they run their business. These rental companies will be able to extend these benefits to their customers by improving their overall experience. A win-win for all stakeholders."
Ultimately, Fourth Tier can now provide their customers with everything they need to effectively manage their operation without needing to learn multiple systems, enabling them to save time, money, as well as facilitate immediate improvements with operational efficiencies.
About Zubie
Since 2012, Zubie has delivered real-time information about vehicles and drivers in an easy-to-use format to help businesses manage and optimize their fleets. Zubie won the "2015 Best Insurance Telematics Product" award from TU Automotive, and Auto Connected Car's 2016 Tech CARS award for "Best OBDII Device with Software and Services."
About Fourth Tier
Fourth Tier is a leading global solutions provider to the mobility and vehicle rental industry. We are a fusion of car rental and IT professionals with extensive experience in international vehicle rental and building specialised software. Our flagship product, Era, is a best of breed solution for the industry, offering unparalleled flexibility and functionality. Highly scalable and based on leading-edge technology, Era is different because it was designed as an enterprise-level solution from the ground up enabling sophisticated functionality to be delivered in a uniquely simple, intuitive, and easy-to-use way. To learn more about Fourth Tier please visit FourthTier.com and follow us on Linkedin.