As the common saying goes – money makes the world go round, and businesses with expensive fleets are no exception. Expenses such as fuel, equipment, maintenance, employees, and a fleet management system are the cost of doing business. In this case, money makes your fleet go round by investing in everything that ensures it's running efficiently. When the bottom line is always top of mind for fleet owners, pricing can be a defining feature when shopping for a fleet management solution. It can seem like a complicated task when pricing plans make it difficult to understand how much you will actually be spending.
Zubie makes fleet management pricing simple by providing flexible and transparent pricing plans. Our plans are built for fleets of all shapes and sizes and designed to grow with you. You also have the option to test Zubie with a free trial to see what works best for you. Let's go through the steps of choosing a plan and payment options.
Step #1: Buy with confidence by selecting the right plan for you 
Zubie offers three tiers of features, Light, Standard, and Premium, tailored to fit different fleet needs. Our entry-level Light offering delivers basic GPS tracking and vehicle health reporting, a great option for blocking and tackling. Our Standard offering is full-featured, including driver performance reporting and insights. And if you're a multi-location franchise that wants to group your fleets by location or another custom approach, then our Premium offering would fit your needs.
No matter which plan you select, you get our top-notch customer support and our simple-to-navigate user interface. And if you really want to up your game, our Dashcam and Asset Trak are available as upgrades with the Standard and Premium subscription plans, allowing you to track your equipment and monitor in-cabin and forward facing driver behavior.
You can upgrade to a higher-tier plan at any time by reaching out to your Zubie representative. Once you upgrade, the new features will be immediately available to you on your dashboard.
Step #2: Choose the number of years to pay for
Once you have decided on which level of plan fits your needs, the next step is to choose how many years you would like to subscribe for. Options include 1, 2, or 3 years. What is the difference? Saving in the long term. The longer you can commit to using Zubie, the deeper the discount we can offer. The average savings for customers on a 2 year plan is 10% and 20% for a 3 year plan. Over 90% of our customers continue to use Zubie year after year, so for most businesses, a multi-year plan makes sense and saves money.
Step #3: Decide if you prefer to pay monthly or upfront
When it comes to payment, you have two options – pre-paid plans and EZ Pay monthly plans.
The EZ Pay plan is like most subscription services we live with — every month, we bill your credit card. For customers looking for maximum cost savings, we offer a prepaid plan customers pay the full-service fee upfront and saves you an equivalent of $2 per month per vehicle on any plan.
And for fleets of more than 200 vehicles, we offer Enterprise pricing, saving companies even more money.
The Right Plan, At the Right Price
Three simple steps to get the pricing you need – and it's right here on our pricing page. With features like idle time tracking, Driver Scoring and Smart Maintenance, implementing Zubie's fleet management system can immediately help you reduce costs on fuel, maintenance and insurance, as this case study demonstrates. Or, take it from Jodie, the Director of Operations with one of our customers: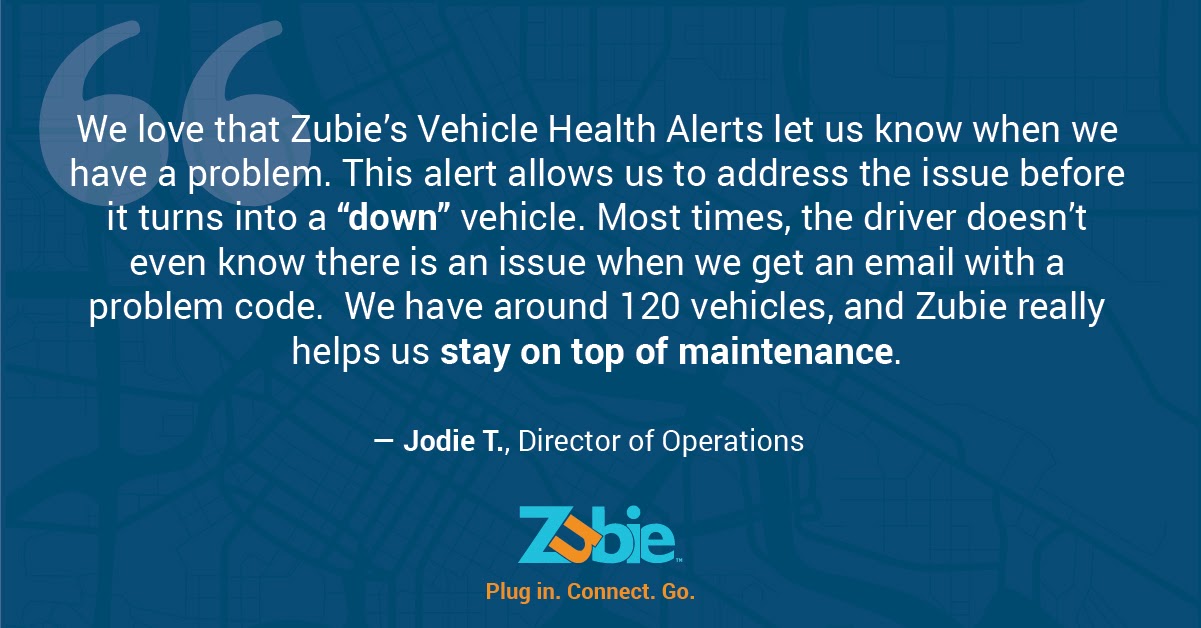 Looking for flexible fleet management pricing? Explore Zubie's pricing plans here, or reach out directly at fleet@zubie.com or 844-976-3263 to discuss our Enterprise option.