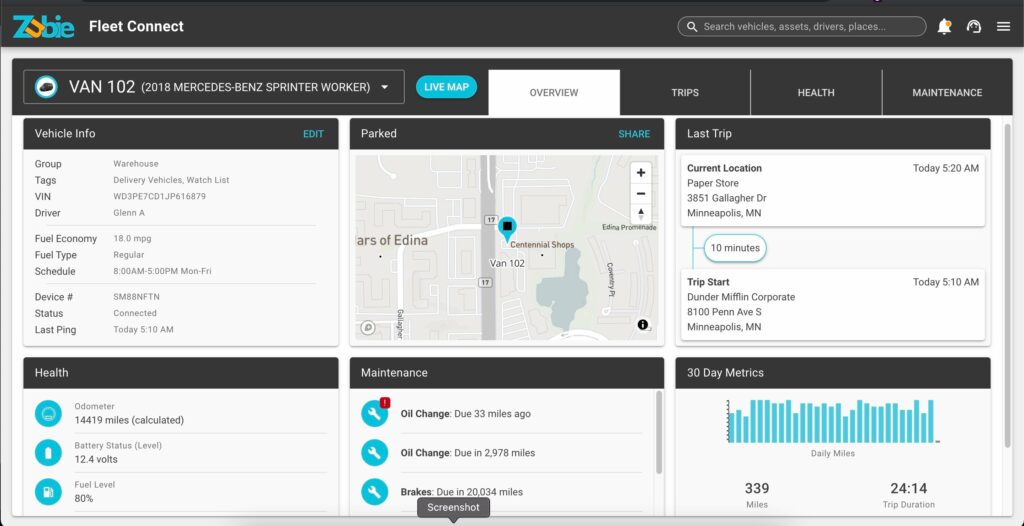 Tracking KPIs (Key Performance Indicators) is a necessary strategy for fleet managers to understand if their fleet is running efficiently. Zubie's fleet management system provides critical data to show how your fleet is performing and helps you successfully meet your KPIs. Let's dive deeper into what our customers share are 4 KPI's they pay most attention to:
Maintenance Management
For maintenance management KPIs, fleet managers should focus on efficiency and preventive maintenance – two things that can be expensive if they are not monitored. Zubie helps you meet your fleet management maintenance KPI's by tracking metrics for engine "on" hours, number of breakdowns, and total maintenance costs. On your Zubie dashboard, you can view detailed health data about each of your vehicles, and see what type of maintenance is required. Knowing the underlying cause of a dashboard light can be a challenge, but Zubie's fleet management system delivers the diagnostic codes so you can understand whether you need to pull a vehicle or whether the maintenance can wait.
Zubie also has a useful feature called Zubie Smart Maintenance that connects you with 25,000+ trusted service providers across the United States. So, wherever your fleet is located, you can track, schedule and pay for maintenance in a touchless manner. This is a simple solution to keeping your fleet on the roads and staying productive. To meet your KPI's and save on costs, with Zubie Smart Maintenance, customers save on average 26%. Maintenance costs can be unpredictable but are very simpler to plan for with Zubie.
Vehicle Utilization & Efficiency
An important KPI to track is vehicle utilization and efficiency. Tracking if an employee actually arrived at a job, or the amount of time a driver spends getting to a job gives valuable insight into how productive your fleet is. Higher productivity means higher profits.
Zubie Fleet Connect's geofence feature is perfect for tracking this KPI. Fleet managers are able to set up a geofence to monitor vehicle activity within a selected area. This feature is useful to track how long an employee has been at the job, and monitor any activity in the area. With geofencing, fleet managers can also see how long a vehicle has been running or if it is turned off, which is a great way to see if your employees are being productive on the job, or if they are sitting in their vehicles during billable work hours.
Driver Performance
Hard braking and excessive speeding can lead to unnecessary wear and tear on your vehicles. Preventing maintenance costs from this type of driving behavior can be crucial to your bottom line and can show your driver's efficiency of getting from job to job in a safe manner. Zubie's fleet management system helps you track metrics such as the number of hard breaks, speeding events, and the number of accidents for each driver through a "driver scorecard". This scorecard can be easily used to track your driver's performance and present an opportunity to reinforce safe driving habits. Setting KPIs for driver performance helps decrease insurance costs, vehicle replacement costs due to accidents, and decrease violations and fines. Most importantly, tracking this metric ensures your vehicles, drivers, and community are safe on the roads.
Fuel Costs
Fuel is an expensive but unavoidable cost for fleets, which is why it's vital to track metrics including idle time, unauthorized mileage, and overall fuel consumption. Zubie's fleet management system has an easy to use dashboard where fleet managers can see the fuel data for each of their vehicles. Another way to ensure fuel efficiency is being maximized is by optimizing routes. Fleet managers are able to view their driver's locations in real time with GPS tracking and can send the closest vehicle to a job nearby.
By analyzing this data and optimizing routes, you can target and reach KPI's surrounding fuel efficiency by making strategic decisions that can cut back on fuel consumption. Meeting your goals for this KPI helps decrease fuel expenses and the emission levels in the environment.
Meet and exceed your KPIs with Zubie. Learn more about Zubie's fleet management system today.