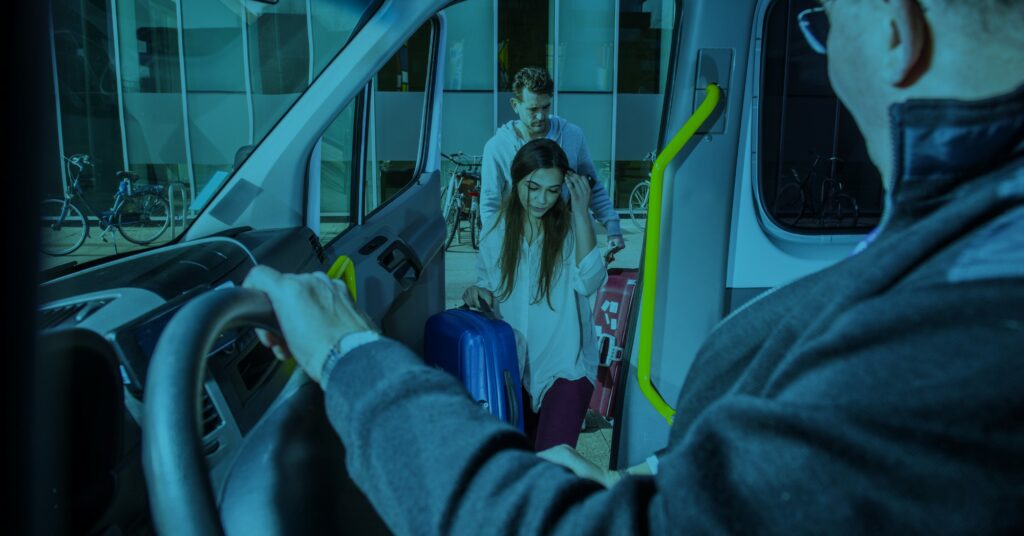 Shuttle operators offer an invaluable service to travelers around the world from airport transfers to local transportation. From passengers, to drivers, to operations teams, all shuttle service stakeholders essentially value the same standards; timeliness, reliability, safety and efficiency.
Zubie Technology is a "Win-Win" for Shuttle Businesses and Passengers
Zubie Dashcam delivers leading vehicle reported telematics technology, and video tracking to ensure these standards are not only met, but are exceeded at every level. Zubie Dashcam optimizes business operations, vehicle health, and efficiency, all while simultaneously placing the safety of passengers, drivers, and pedestrians as a top priority.
Zubie Dashcam offers real-time GPS tracking and telematics to provide live mapping, detailed trip history, driver scoring, idling, fuel monitoring, odometer readings, and geofencing. These features are powerful on their own, but together are unbeatable in providing comprehensive reporting, route efficiency, and insight into driver performance. Passengers also benefit greatly from this real-time technology by having access to the precise location of their ride, and can breathe easy knowing their travel plans and safety are a priority.
Dual Surveillance Reduces Risks and Improves Safety
Safety is of utmost importance when it comes to transportation of any kind, but especially for shuttle services. Why rely solely on the driver to ensure top notch safety for an abundance of passengers when technology is there to assist? Zubie Dashcam takes the guesswork out of the equation by increasing driver accountability, and providing certainty of the safest ride possible.
The two camera, HD video system tracks both the road and vehicle cabin to protect against distracted driving, keeping passengers, pedestrians, and drivers safe. This technology is vital in ensuring optimal safety during every route. Drivers are no longer burdened by unnecessary distractions, and can give their full attention to operating the shuttle. This technology also helps owner operators educate drivers to not be on calls or text messaging while moving, which would normally increase the risk of an accident occurring.
In the case of a critical incident, Zubie Dashcams connect directly to cloud storage so that video can be reviewed for accuracy and improvements for the future. No more "your word against theirs", as the proof is accurately recorded and stored.
Saving Money With Lowered Insurance Rates
Running a shuttle service comes with a long list of liabilities, often leading to high insurance rates. By using Zubie's telematics technology, many of these liabilities diminish due to having access to accurate driver reports, and video that documents any incidents in and outside of the shuttle.
When drivers are aware that their performance is being assessed, many make a conscious effort to correct risky driving behaviors such as speeding, hard braking, or erratic lane switching. These types of assessments lead to improved driving records, and can reduce insurance rates up to 25%. Not to mention that many insurance companies will even offer a discounted rate of up to 10% for just having technology like Zubie Dashcams installed.
The Smarter Way to Run Your Shuttle Service
In the end, utilizing Zubie Dashcam is simply the smarter way to operate your shuttle service. "Zubie Dashcam captures video of shuttle drivers, passengers, and the road so that you'll always have a record of what's happening inside and outside of the vehicle," said Zubie CRO Mark Novak. "Dashcam is continuously improving driver behaviors, safety and operational efficiencies for our clients. It's less expensive to be proactive with technology versus reactive."
The actual installation of this supreme technology only takes minutes, allowing you to benefit from its intuitive capabilities immediately. Take the intelligent route to improve your shuttle service business, and connect with Zubie today.
Need A Quick Refresher of Zubie Dashcam Benefits?
GPS Real-time tracking
Fuel Monitoring
Vehicle Health Monitoring
GeoFencing Capabilities
Dual Camera System
Driver Performance Reports
Lowered Insurance Rates
Video Recordings
Cloud Storage