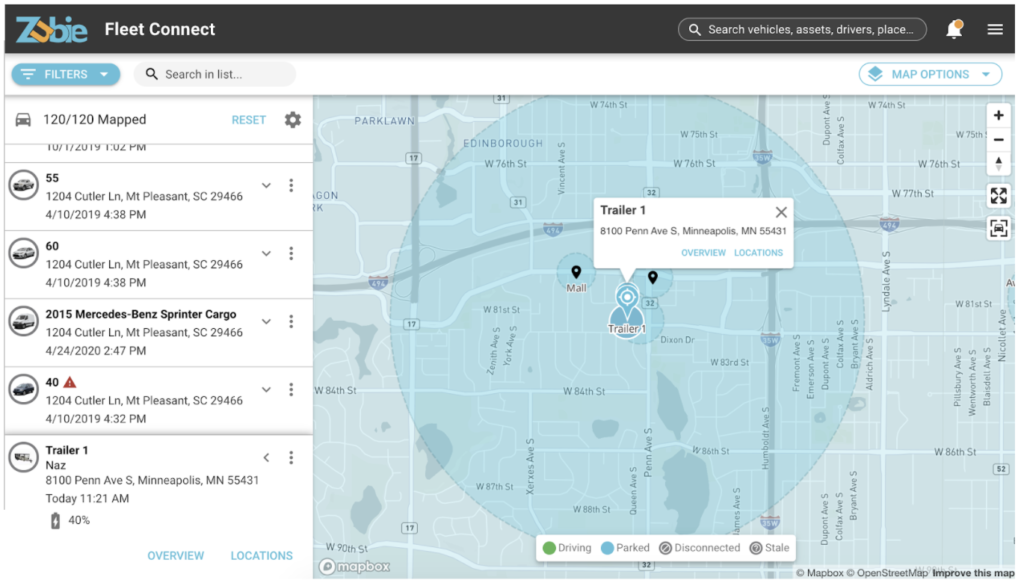 Always thinking about how to make things simpler for our customers, Zubie has made it a point to engage with integration partners. Serviceminder.io, one of the service providers that integrates with Zubie, helps franchisees with their business operations. To dive deeper into the integration and partnership, Zubie and Serviceminder.io hosted a webinar for customers to learn more about how they work, their benefits, and why customers love the integration. The panel was hosted by Leah Wegman, client success manager at Serviceminder.io, and featured speakers including John Keene, founder of Serviceminder.io, and Greg Pendelton, Director of Business Development for Zubie. During the webinar, we addressed several key issues relevant to franchise owners with fleets. Here are some of the highlights.
The Benefit of Zubie 
Why fleet management? Greg Pendelton, Director of Business Development started off the webinar explaining Zubie's core benefits: Protecting your most important assets including your property, people, and processes. Zubie knows that by protecting your business, you're also protecting your brand reputation in your market.
Zubie's value proposition is explained by Greg as "doing everything except providing the vehicles themselves when it comes to managing your fleet". The value of Zubie is provided through its features, which include:
Protecting your vehicles
Track & Recover
Safety alerts
Zubie Smart Maintenance
Simple 10-minute installation
Optimizing your business
Driver records
Real-time vehicle health alerts
ROI of 250%
Zubie knows franchisees and their space well as we have been working with them for more than 5 years. But Zubie also knows every brand is different, which is why Zubie is customizable. Our fleet management software proactively solves complex fleet operations problems so your focus can be on your business. It's a fleet management system that doesn't require micromanaging – just plug and play.
The Benefit of Serviceminder.io
Who is Serviceminder.io? According to the founder, John Keene, Serviceminder.io Manages every step of the workflow. The first step is acquire, which includes lead capture forms, open API, and lead distribution. Next is track. Scheduling and mapping happen here. Third, convert, which involves email campaigns, drip marketing, and most importantly two-way texting. The last step is grow. Payment processing, review integrations are the end of the process. Keene also explained Serviceminder.io as:
Built for home services
Franchise-ready
Integrates with everything
All about optimizing the production pipeline
If your leads come straight from a website or digital advertising, they go directly to Serviceminder.io and are stored. Get instant notifications on your phone, on the web or call centers book appointments. There are real-time dashboards to track revenue and costs per lead. The proposal option allows customers to "upsell themselves" and integrates well with QuickBooks and digital advertisers. This ensures you're spending your money in the right place and tracks success.
The Integration
Where does Zubie come into play? The integration delivers all Zubie's insights about vehicles and drivers through Servicemider.io in a clean, clear way, so business owners can view their most important vehicle information alongside their critical business metrics. The result is having more information that's easily accessible in the same place to make your most informed business decisions.
Once you get your Zubie device, just plug it in, and on the Serviceminder.io interface click "Connect to Zubie". This button grants Serviceminder.io access to all your vehicles.
Another added benefit is Serviceminder.io ties the driver to the vehicle, making it easy to identify who was driving if there are any issues that arise after a trip. Serviceminder.io uses Zubie's telematics data to track where vehicles are at all times on a map and when was the last ping time for your entire team. See exact trips for any day. This is especially useful for customer service issues because you can see when the driver arrived and departed the location so the customer can be ensured the driver was there.
The best aspect of Serviceminder.io and Zubie's integration is all of this data is in one place and the mission is to make the data useful.
What do Customers Say?
Brooks Taffel, a landscape lighting, and mosquito treatment business owner joined the webinar to explain how Zubie and Serviceminer.io help optimize his business.
How do you use Zubie? 
"We use Zubie for tracking our vehicles. We really like it because it's always on and gives us a driver scorecard. Zubue gives oversight of the vehicles once they're out the door. We have 7 trucks and it's a lot to keep up with but Zubie helps me automate everything."
What's your favorite Zubie feature? 
"Driver scorecard. We don't want to micromanage our drivers, but at the end of the day we get a driver scorecard and shows us several different vital statistics like speeding, idling time, excessive breaking, which helps me see which drivers are deviating policy."
How are you using Serviceminder.io? 
"Serviceminder.io is awesome. It's our whole database which is very accessible via laptop, iPad, and most importantly via cell phone. All of our reps use serviceminder.io in the field and it's a very fluid database. It's automated and most importantly it has integrations with other service providers like Zubie."
What's your favorite Serviceminder.io feature? 
"Location because our customers get notifications when drivers are en route to the location. Customers love it because they receive the location automatically and it's accurate."
If you have serviceminder.io, and want Zubie, go to the market place in Serviceminder.io and find the Zubie card for an offer code of 10% off your purchase. 
If you're already a Zubie member and are interested in Serviceminder.io, request a demo. After the demo, Serviceminder.io is offering 2 free web meeting hours to get set up. 
For more information about either company, visit www.zubie.com or www.serviceminder.io