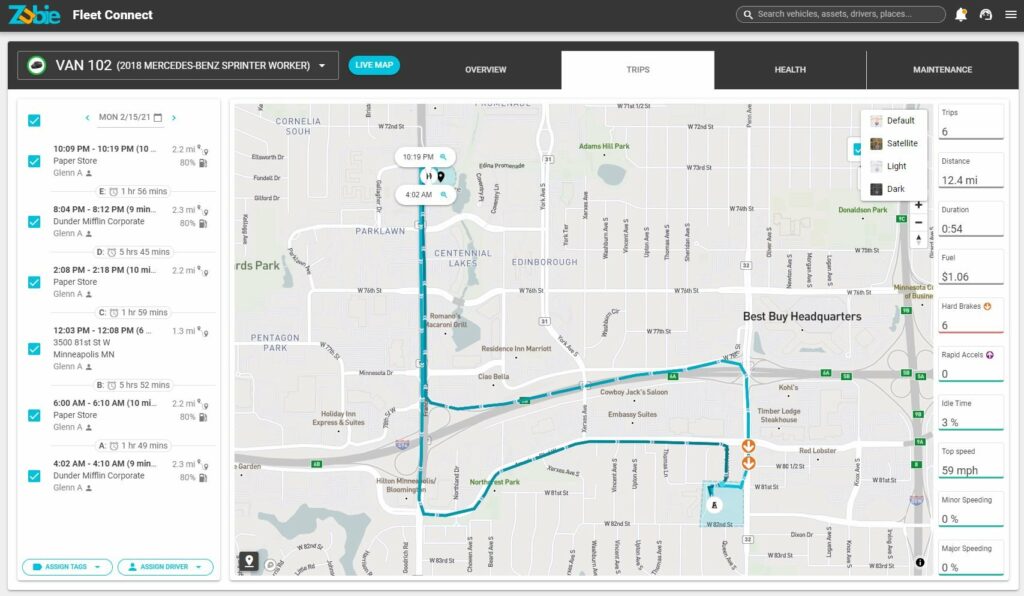 Fleets can be expensive to manage, especially when left unchecked. It can be hard for fleet managers to fix large expenses if the underlying reasons are unknown. Fortunately, fleet management software like Zubie gives you the data you need to make smart business decisions. Here are the 5 ways Zubie is empowering fleet managers to protect their fleets and optimize their business:
1) Decrease Insurance Costs by Monitoring Driver Performance
Driving behaviors such as hard braking and excessive speeding can lead to an increase in the number of accidents and cost you unnecessary expenses of replacing parts or buying new vehicles after excessive wear and tear. Not only will these costs impact your bottom line, but insurance costs can skyrocket, creating an overall expensive scenario that could have been avoided. The best way to mitigate the risks that occur due to risky driving habits is to have insight into your employee's driving habits and use it to educate them about safe driving. Zubie's fleet management feature for tracking driver performance is an effective solution.
Fleet managers can view the Zubie dashboard anytime to check any driver's idling time, number of hard breaks, speeding, and even overall fuel usage. In order to educate and encourage safe driving, Zubie's platform also provides a driver scorecard for each employee that reports their driving performance data. This is a great way to incorporate some healthy competition among drivers and keep them responsible for their driving behaviors, which ultimately saves your business money on maintenance and insurance costs.
2) Never Miss a Job with GPS Tracking
GPS tracking is a simple, yet impactful feature. There are endless benefits to always knowing where your vehicles are such as optimizing your driver's routes, knowing the exact arrival and departure times, and complete trip history. So how does this data save you money? If a customer is expecting a certain arrival time and their driver might not be able to make it in time, the fleet manager can look at the live locations of all fleet vehicles and identify a driver that is closer to the intended destination. Moreover, you can gain customer loyalty and satisfaction by using the geofence feature to ensure accurate arrival times by alerting you when drivers arrive or depart from a location. By optimizing operations with Zubie's GPS tracking, you will save big on fuel costs, decrease mileage, and impress customers by never missing a job.
3) Save on Maintenance Costs with Vehicle Health Data 
Using fleet management to stay proactive on maintenance can reduce your fleet costs immensely. Without fleet management, drivers and fleet managers may not know a vehicle needs maintenance until an alert like check engine light turns on. Sometimes maintenance can be routine but other times it can be extremely costly. However, unexpected maintenance costs are completely avoidable by using Zubie's fleet management system.
Zubie's vehicle health data gives you the insight needed to be confident your vehicles are running efficiently. Zubie will send you alerts when there are issues with your vehicle or simply when it needs routine service. Another benefit to this data is Zubie monitors vehicle utilization, mileage, and fuel levels and will notify your driver of the nearest gas station when their fuel is running low. By receiving vehicle health alerts, you will decrease unexpected maintenance and vehicle replacement costs. Fleet managers also receive DTC codes on their Zubie dashboard, letting them know if the maintenance can wait, or needs immediate attention.
4) Recover Stolen or Missing Equipment Quickly with Asset Trak  
Zubie Asset Trak is the perfect solution to protect your assets against theft and save you money on replacement costs. It can be virtually impossible to always know where your assets are located 24/7 as your employees transport them to many locations day-to-day. Zubie knows that protecting your equipment is just as important as tracking your vehicles, which is why Zubie Asset Trak provides you with the real-time location of all of your assets. In addition to this, our geofencing feature allows you to monitor your asset's usage by tracking trip locations, setting up boundaries for restricted areas, and creating alerts for when assets are moved. If your equipment happens to be lost or stolen, Zubie Location Link will share the location of the lost asset with local police or towing service to assist in a swift recovery.
24/7 location tracking and geofencing saves you time searching for a missing asset and saves you money on the expensive cost of replacement. With Zubie's fleet management system, you can track your vehicles at all times, and adding Zubie Asset Trak to your subscription gives you total asset protection. Learn more about the free trial offer for Asset Trak here. 
5) Get Big Discounts with Zubie Smart Maintenance 
Zubie customers see a huge increase in ROI by using Zubie Smart Maintenance. Zubie Smart Maintenance is an electronic service scheduling platform that connects your fleet to a Nationwide network of over 20,000 service shops and big-fleet discounts. OEM reminders help you plan more efficiently for maintenance by setting up reminders based on actual mileage. Scheduling appointments is made easy by being available online or having a mobile worker schedule for you through the app, saving you time to focus on other business needs.
When your vehicle is in need of service, Zubie Smart Maintenance connects you with a service shop close to you. Zubie has negotiated "big fleet" pricing to be comparable with small local shops to save you big bucks – up to 26%! Use our ROI calculator to see how much you can save. 
These 5 Zubie features show that technology is key when it comes to saving money on fleet operation expenses. Without the insight Zubie's fleet management system provides, it's virtually impossible to implement change where it's needed and proactively decrease overhead costs.
Ready to save? Reach out to a Zubie today for a demo.