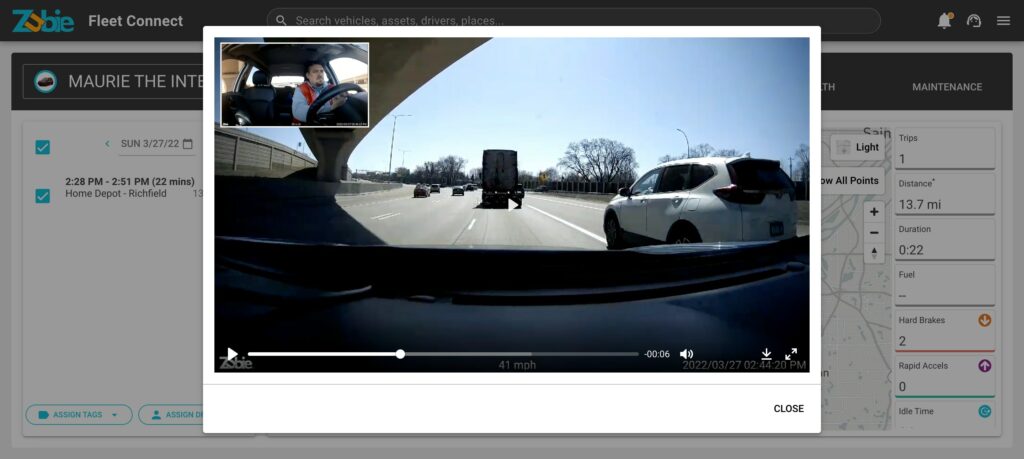 Zubie's Dashcam is an excellent tool for dealerships to gain real visibility into several important operations. Dashcam can be used to record the activity of a dealership's parts delivery vehicles, monitor customer shuttle services, and track porters used to deliver new and used vehicles from one dealership to another.
For all three of these operations, Dashcam monitors activities both inside and outside of the vehicle, providing an extra layer of safety for drivers, passengers, and pedestrians. Dashcam reduces distracted driving, is a visual record of vehicle contents, and provides concrete evidence in the case of a critical incident. Footage can be viewed live and is also recorded and stored. 
Zubie Dashcam also allows dealerships to track driver performance. This is both beneficial to dealerships and their drivers. Dealership drivers need to practice driving behaviors that prioritize safety, and vehicle health. It is difficult to monitor these behaviors when drivers are constantly on the move. Specifically, drivers can use their performance reports to reduce behaviors like harsh braking, rapid acceleration, speeding, and excessive idle time. These behaviors increase the likelihood of accidents and increase fuel, vehicle maintenance, and liability costs.
Zubie's Chief Revenue Officer, Mark Novak elaborates on the benefits of Dashcam in regards to safety, "Being able to monitor activity in and outside of dealership vehicles can be a key component in ensuring safety for drivers, shuttle passengers, and other vehicles on the road. When drivers are aware of Zubie's Dashcam capabilities, they will likely make smarter, safer, choices."
Driver performance reports can be used as a proactive tool to improve safety and vehicle efficiency before parts delivery drivers, customer shuttle drivers, and porters ever hit the road. Dealerships can use these reports as a training tool for new drivers and encourage all drivers to engage in safe driving behaviors. 
Utilizing Zubie Dashcam means having peace of mind and knowing you are taking the necessary precautions to preserve your parts delivery vehicles, customer shuttles and porters, and are also providing a safe environment for everyone involved.
In most cases, having a dashcam installed could even lower your insurance cost.
Finally, ever have customers ask where the shuttle is and when is going to be back to take them to their destination?  Well Zubie's Dashcam has a built-in kiosk mode so you can broadcast location only on a lobby monitor so anyone waiting for the shuttle knows exactly where it is, saving your staff time in answering questions when they don't even know the answer.  This is really a win for all.
Connect with Zubie to Improve Your Dealership
With a wide range of benefits, it is easy to see why many are choosing to use telematics to help run their entire dealership. Specifically, Zubie can help dealerships save time and money with the most advanced, intuitive and sought after telematic features on the market. 
The experts at Zubie understand what dealerships need and are ready to help your dealership get on a path to improved systems and greater success. Contact Zubie today to see how your dealership can begin benefiting from their industry-leading telematic solutions.