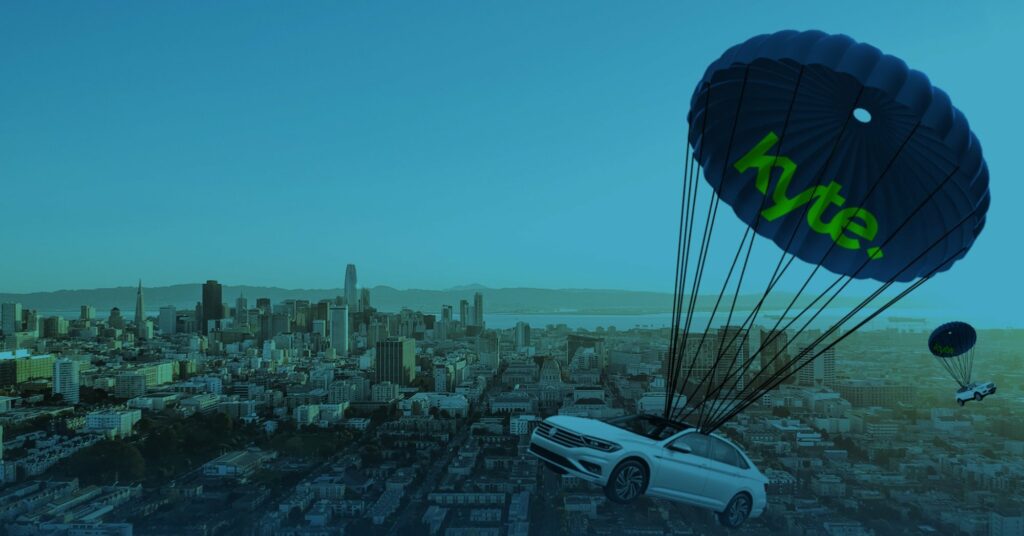 There is currently a lot at stake for the rental car industry, from intense competition to managing complex and expensive fleets, and anticipating consumer needs for the short and long term. In a time where managing your fleet and business costs are critical, Zubie Rental Connect software is providing many rental fleet managers with the ability to locate and protect their expensive assets, while at the same time, helping them optimize their business. We asked one of our newest partners, Kyte, to share some insight on how they're using Zubie to improve their business.
Kyte is a rapidly expanding, on-demand, car rental service founded in 2019, with operations in cities including San Francisco, Los Angeles, and Boston. Like Zubie, Kyte tries to keep things simple. A user reserves a car on the Kyte app and a Kyte driver delivers the car, clean and ready, to them. When they're finished with the vehicle, the consumer can drop the car off at the location of their choice to be picked up. A seamless and simple-to-use system like this makes Kyte perfect for road trips, business travel, and people who are avoiding rideshare and mass transportation these days. 
Ludwig Schönack, one of the co-founders of Kyte, shared with the Zubie team that he and his co-founders saw an opportunity to offer a unique car rental experience for consumers that fit with the transportation needs of the future. The inspiration behind founding Kyte was to create a similarly simple experience to rideshare companies, like Uber, for example, but at a different vertical. They saw a white space in the 100 billion dollar rental space and a need for an easy-to-use, technology-driven solution, 
How does Zubie's fleet management system provide value to Kyte? Schönack shared "data and vehicle location are vital" to their business operations. As Kyte continues to grow, they plan on leveraging telematics to continue making data-driven decisions, and ultimately build the platform into a fleet operating system. More specifically, Kyte uses the fuel, mileage and geo-spacial data Zubie provides to inform critical profitability metrics — data you won't get in a standard "track and trace" telematics solution.
As with most rental car operations, receiving and analyzing data is critical to making decisions, from when to pull a vehicle from the fleet for maintenance to when to sell the vehicle. Understanding the precise location of expensive assets is of paramount importance, as many of our Rental Connect customers have shared just how easy it is to lose track of a vehicle, especially during times like now.
Protect Your Assets with GPS Tracking, Geofencing and Vehicle Alerts 
Kyte finds GPS tracking is a vital tool for protecting the assets of their fleet partners. It is no surprise that, when investing significant money in fleets of vehicles, those fleet owners want to know, not only where those assets are, but how they're being driven. Understanding vehicle dynamics such as rapid acceleration and hard braking incidents can impact not only the cost of maintaining the vehicle but also the resale value. Additionally, GPS tracking is especially useful when cars get impounded, are dropped at a major airport location or arrive in a body shop – an easy way for vehicles to be "misplaced". Kyte also takes advantage of key Zubie features such as: 
Fuel and mileage thresholds, which Kyte uses to track profitability 

Custom geofencing alerts to know when a vehicle has left or arrived at a specific location, or entering areas in which they're not supposed to be

A complete history of fleet vehicle trips including start point, destination, stops, itinerary and trip length 

Alerts for when a rental car has been in an accident 

Maintenance alerts and DTC code diagnostics to determine if vehicles need immediate service or schedule future service upon vehicle return
Increase Revenue with Zubie Fleet Connect 
Zubie Rental Connect allows managers to have a better understanding of idle time, mileage, and maintenance issues. These vehicle insights give Kyte, and other rental fleet managers the information they need to maximize their revenue and decrease cost. The best part of Zubie Rental Connect is it's simple and easy to use. Here's how: 
Simple installation. Simply plug the Zubie Rental Connect device into an OBD-II port like a memory stick and look for the activated vehicle in your Zubie Rental Connect dashboard. 

Access your dashboard from any device, whether it's a computer, tablet, iOS or Android smartphone
Now more than ever rental car operators must manage their fleet to the best of their abilities.  With used car prices skyrocketing, and new inventory many months away from production and delivery, owners of fleets must manage their assets to the best of their ability.  And what a better time to start doing it than now, while vehicles are parked and installation can be done simply and easily.  As your business picks up, add Zubie Rental Connect in synch with your growth.
Ready to take your Rental Car business into the future with telematics? Reach out to Zubie today for your demo, quote and free trial.