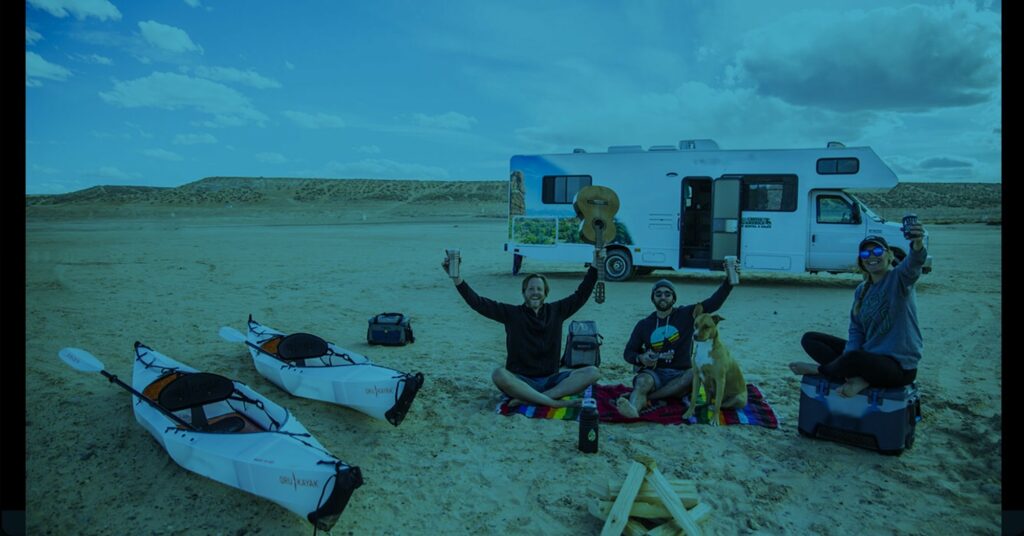 This year's summer vacation plans have gone off the beaten path, quite literally. Travelers are turning to RVs and campervans to enjoy a socially distant getaway. Consumers are seeking out private rentals from individuals and rentals from large commercial dealerships, or small niche rental agencies that provide a very unique experience. Either way, fleet management software is vital to the RVs and campervans rental experience.
Here are 3 ways fleet management benefits RV and campervan companies.
Locating Lost or Stolen Vehicles with GPS tracking
Investing in an RV or campervan fleet can be quite expensive with the cost ranging from $10,000 to $200,000. This means security is a top priority for fleet owners and managers. An easy way to mitigate theft is to utilize GPS tracking to locate the vehicle's exact location.
Oftentimes, RV and campervan rentals are on the move in remote locations, such as national parks, so it's critical to have software that can easily locate the missing vehicles quickly. GPS and cellular combination working together can address this.  But don't just assume all cellular works the same. There is a big difference between 3G & 4G and at this time, although 5G sounds great, it isn't necessary today as there is no real benefit to focusing on 5G. With a fleet tracking solution like Zubie, a fleet manager can create custom alerts such as:
Crossing into CAN or MEX when renters are not supposed to
Getting mileage alerts when a renter has exceeded their mileage allotment so the rental company can prepare for a vehicle with higher than expected mileage
Going Off-Road or taking the vehicle in places it shouldn't be visiting
Accident alerts to know when a vehicle is damaged or  stuck in a ditch.
Check in on estimated or expected day and time due to location. As you know these need to be cleaned thoroughly before the next rental period and if it isn't back in time or is expected to be late, the rental company can prepare better so the next customer still has a promising experience.
Additionally, on those rare occasions where simply knowing the location of the vehicle isn't enough, having a built-in service to actually recover your vehicle can be helpful. Best-in-class fleet management software not only gives a fleet manager the ability to direct authorities to the vehicle location, but also helps you recover the asset.
Visibility of Vehicle Health Data
Maintaining your fleet proactively is not only cost-effective, but managing vehicle downtime can be critical to maximizing your fleet's revenue creation. Zubie's fleet management software maximizes revenue generation by offering vehicle health alerts that allow fleet owners to stay ahead of maintenance issues. For example, Zubie sends alerts when the "check engine" light turns on. Most of the time it can be difficult to know if this means a simple problem or an important one. Zubie solves this issue by providing a detailed report so fleet managers know exactly what the issue is, and can address it appropriately.. This not only helps the fleet managers proactively maintain their vehicles but also provides safe vehicles for the renters and helps improve customer satisfaction, reducing the likelihood of an issue when the next customer rents the vehicle.
Reducing Maintenance Costs 
Renters are taking the vehicles on long road trips and driving through rough terrain. Maintenance schedules must be up to date to avoid unforeseen problems while the RV or campervan is being used. Zubie's simple solution to this is Smart Maintenance, which enables fleet managers to track, schedule, and pay for vehicle service and maintenance seamlessly through a network of more than 20,000 trusted providers nationwide at an average savings of 26%. This vital information can ultimately increase the vehicle's lifespan, and more importantly, take the guesswork out of vehicle maintenance scheduling. And in the event that a vehicle needs maintenance while being rented, fleet managers know they can direct the customer to a trusted service facility nearby. 
For RV and campervan companies, investing in a fleet requires additional investment in fleet management to ensure security, proactive maintenance, and overall cost savings. 
Integration and Consumerization 
While many organizations need a simple all-in-one system to manage their fleet, more sophisticated operations with multiple locations may need a system that easily integrates into their existing software. That's where flexible applications like Zubie's ZinC API comes in. Having a flexible API plugin will allow businesses to see their vehicle tracking data alongside other critical metrics, giving them the ability to make business decisions with all the necessary information in front of them.
Additionally, if you have a savvy customer base, they may want to tap into the data themselves. A full-service software application like Zubie can help you deliver consumer-friendly insights as a "connected RV" solution. Whether it's the initial way to offer the consumer interesting driving data, or as a way to supplement your existing consumer offering, this is vehicle insight that a standard "track and trace" solution simply can't deliver.
Ready to optimize your RV and Campervan rentals? Reach out to Zubie today for your demo, quote and free trial.