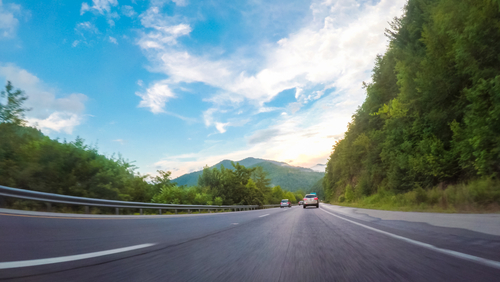 Dashcams are a powerful fleet management tool. You can use them to track location, monitor driver behavior and record dangerous road events like hard braking, speeding or accidents. Simply put, dashcams allow you to take the guesswork out of monitoring your fleet. 
More fleet managers are seeing the payoff for investing in fleet dashcams. How can transitioning to dashcams vs other OBD-II devices benefit your business? We uncover the value of telematics based dashcams and explain how they can save your operators money, time and headaches. For trucking companies, delivery services, contractors and hundreds of other industries, dashcams are proving to be an invaluable asset. See why this trend has forever changed the face of car and truck fleet management.
Dashcams for Fleet Vehicles are Trending Up
The global dashcam market is expected to triple by 2028 with a projected $11.48 billion in sales. As more businesses realize the value of dashcams in their vehicles, demand will increase. Some of this will be fueled by changing regulations and insurance discounts but the utility of dashcams speaks for itself.
87% of accidents are the result of risky driving behaviors. With dashcams, operators can monitor and correct these behaviors and build a safer fleet on the road. The cost of accidents has gone up. Fleet managers can save themselves the cost of expensive repairs and potential lawsuits by using dashcams paired with vehicle fleet management software to enhance their operations.
Is your fleet ready to make the transition or will you be left behind the technological curve?
How Dashcams are Changing Fleet Management
In a 2015 NSTSCE report, the National Surface Transportation Safety Center for Excellence found that installing an onboard safety monitoring device (OSM) in your vehicle along with improved driver training reduced safety-related events by 52%. Since then companies have discovered that dashcams are not an invasive policing device but rather, a valuable training tool that can help correct risky behaviors. Drivers are learning that dashcams can exonerate them from potentially damaging accusations and reward them for being competent on the road.
With this ability to improve performance and reduce accidents, insurance companies are partnering with dashcam producers to help their clients save money and avoid expensive payouts. Dashcams provide hard evidence where hearsay and accusations have historically led to costly court hearings. Fleet managers see these savings multiplied with every vehicle on their lot.
Why Transition Your Vehicles to Fleet Dashcams? 
Why are more companies installing dashcams in their vehicles and why are insurance companies increasingly offering significant discounts for vehicles with dashcams? The advantages of dashcams are numerous. Here are the main benefits of installing dashcams in your vehicles:
Avoid false claims 
Scammers and opportunists lie around every corner. With an active dashcam that starts recording the moment the ignition turns on, you have a clear record of everything that transpires inside and outside of your vehicles. Zubie also detects movement outside the car to capture potential theft within the camera's sight lines.
Exonerate drivers
Commercial drivers are a convenient target in accidents. In this detailed case study,  a truck driver was exonerated from killing a pedestrian on the side of the road thanks to irrefutable dashcam footage. Dashcams hold your drivers accountable but also reward them for good driving.
Reduce vehicle wear and save fuel
A dashcam can identify speeding, hard braking and idling vehicles. By correcting the behaviors that wear out vehicles quicker and cost more money, you can make your fleet more efficient. 
Educate and Improve Safety
Keep your drivers and passengers safe by reducing instances of distracted driving or fatigue. Use dashcam footage to educate drivers who may not realize they're drifting or tailgating. Create an incentive program that rewards drivers for exemplary behavior.
Theft protection
Cars and trucks are at a premium and vehicle thefts have increased. Dashcams with telematics capability are one of your most valuable fleet management tools. Not only do they give you a visual record of where your vehicles are but they also offer constant GPS tracking for fast recovery of lost or stolen vehicles. 
Why Choose Zubie Dashcams for Your Fleet?

Zubie is a leading innovator in the telematics industry. We've created a HD dashcam that records forward at 1080p and cabin-facing at 720p for up to 60 hours. Not only do you get crisp, clear video any time of day, you get a platform of unparalleled features that easily integrates with your current management system. 
Whether you're starting from ground zero or upgrading an existing OBD-II device, we can help you make the change quickly and seamlessly. Here are some of the features you'll get:
Easy to install

– under 10 minutes/vehicle. Upgrade your entire fleet in a day.

Powerful features

– GPS, fuel consumption, odometer readings.

Integrates with existing systems

– enhance what you already use.

Intuitive platform

– easily view your entire fleet on a live view and zoom to individual vehicles for more detail.

Reliable quality

– real time and cloud.

Responsive customer support

– the best support team in the business is always ready to help with your questions.
Try The Best Dashcams for Fleet Vehicles 
If you manage a fleet of any size, we'd like to show you how a dashcam can improve your efficiency and save you money. Contact Zubie today for a demo or free trial. You'll see how Zubie dashcam paired with the best fleet management software available can transform the way you monitor and manage your vehicles.