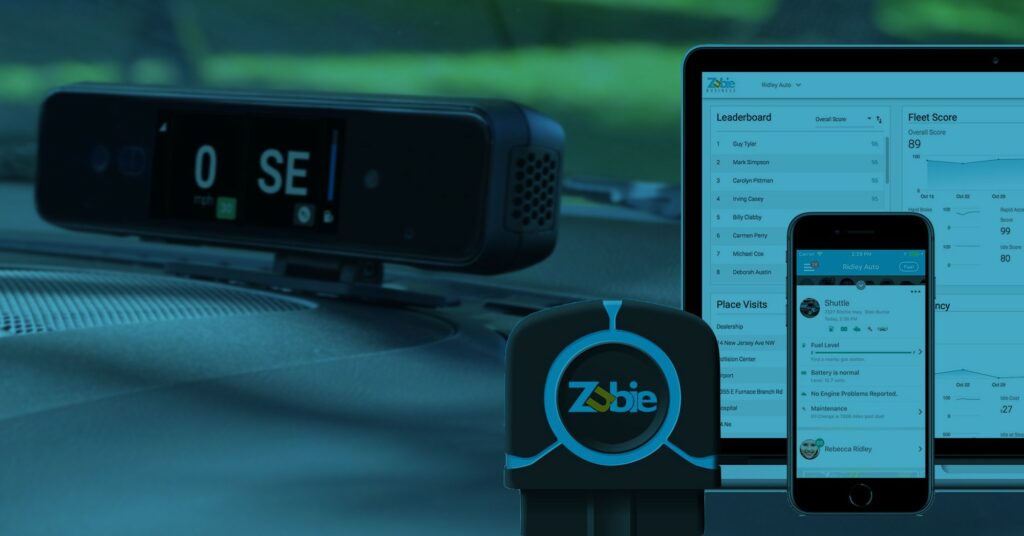 Plug-in device to OBD-ll port 

Vehicle health data

Driver performance 

GPS tracking 
Combo 2-in-1 (OBD-II plus camera in a single piece of hardware)

Integrated video and telematics 

GPS tracking 

Vehicle health data

Live map 

Geofence alerts 

Driver performance 
Advantages:
HD video recording (in-cabin and forward-facing)

Event-triggered recordings

A total fleet management solution: managers have a look inside their vehicles to see what is actually happening

New features and upgrades 
When deciding which fleet management device would work best for your business, it's important to know that an OBD-ll telematics device is a great choice but Dashcam is even better. What are the advantages? Zubie Dashcam is a 2-in-1 single piece of hardware, meaning it has all of the same capabilities as OBD-ll but offers more innovative features. The data OBD-ll and Dashcam track include vehicle health data, driver performance, and GPS tracking. The benefit of Dashcam is it offers HD video recording in-cabin and forward facing on top of all the other data. 
Another advantage is if you choose Zubie Dashcam, you only have to implement 1 device into your vehicles, in most cases you have to implement both the OBD-ll and Dashcam devices. You may even need a separate power source, additional cables or a bluetooth connection. The installation process for your Zubie Dashcam is really very simple – it should take you no longer than a few minutes. The technology process is the same as OBD-II, once installed take your vehicle for a spin and you will be provided with the video and telematics data in our simple-to-use platform.
If your driver comes back with damage on the front end of their vehicle, you have the video in-cabin and forward-facing to analyze what caused the incident. Distracted Driving Causes 14% to 17% of all crashes, according to Business Fleet. Zubie Dashcam will give you the reassurance you are looking for. If your drivers know they are being recorded it will encourage safer driving habits. You will be alerted by an event trigger any time dangerous habits like hard braking and speeding occur via email or through a notification on your mobile device if you use Zubie's Mobile App. 
Interested in more information on Zubie Dashcam? Reach out to a representative today.