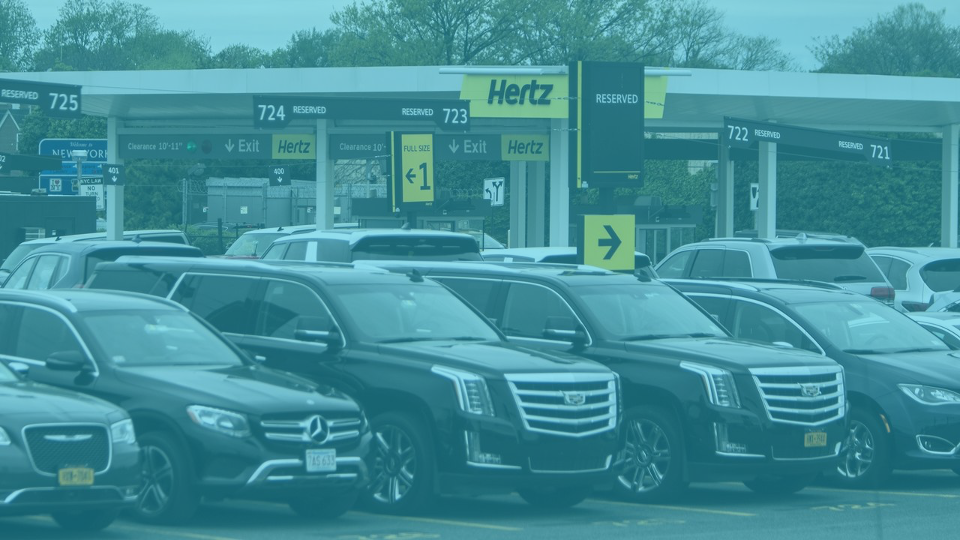 In these unprecedented times, everyone is trying their best to adjust to the new normal. One of the biggest transitions was in-person events turned into webinars and virtual events. Instead of hosting their annual conference in Las Vegas, the International Car Rental Show (ICRS) became a virtual experience. Although attendees had to trade warm weather and conference halls for their home office, the experience was an excellent way to learn more about what's happening in the car rental industry and how companies are adapting.
Zubie was thrilled to host a panel filled with customers to discuss how they've used Fleet Management software to adapt their business during the last 7 months. The panel, An Operator's Perspective: Car Rental & Telematics in the New Normal was hosted by the CEO of Zubie, Gary Tucker, and featured operators including John Goodbrake (Master's Transportation), Ryan Honig (Avis), and Rich Sinda (HERTZ). The webinar gave attendees insight into how these operators are handling these challenging times, ways their rental car businesses have adapted, and how Zubie's fleet tracking software have benefited them throughout the pandemic.
Fleet Management Pandemic Surprises
Gary Tucker kicked off the event by asking the panel to share surprising positive outcomes they've experienced from the pandemic. From a business perspective, the panel expressed the pandemic gave them more time to evaluate their business by checking efficiency and implementing change in key areas. In addition, a positive aspect these operators are experiencing is a surprising increase in business, and some have even been performing better than in past years. As the economy remains a guessing game, these leaders remain optimistic that the rental car industry remains vital for its customers, albeit in new and potentially interesting ways.
The Importance of Vehicle Tracking
Another consistent insight from the panel was around how critical Zubie's location tracking feature has been. Operators discussed how important it is to know where their vehicles are, especially during COVID. John Goodbrake, CEO of Master's Transportation, explained how Master's has elevated their diligence by using Zubie, which has led them to understand their maintenance needs better. When budgets become tighter, being diligent about maintenance becomes crucial in order to avoid more expensive problems. In addition to the many benefits of location tracking, Goodbrake also explained how other Zubie features have helped Master's Transportation provide quality customer service.
"Zubie's telematics gives us insight into our driver's behavior, which has really helped us. For example, we serve several hundred colleges and universities, so ensuring we eliminate dangerous behaviors such as erratic driving or hard stops as we're transporting athletes is critical to achieving our overall goal of being able to take better care of our main customer — the university."
Reducing Fraud and Theft With Fleet Management
Location tracking also mitigates the risk of fraud and theft, which is on the rise. The operators shared their unique experiences with this and how Zubie's Location Link allows them to know where their vehicles are at all times and gives them the confidence that they will be able to recover vehicles quickly. One story included how Zubie was used to locate a stolen vehicle in a high-speed police chase. Although that isn't an everyday problem for fleet managers, it shows how Zubie protects against theft in even the most extreme and unexpected scenarios.
Besides location tracking, the operators raved about other ways Zubie mitigates risk. Businesses are focused on saving time and money now more than ever. With forecasting virtually impossible and tourism on the decline, rental car businesses are focusing on areas of improvement that can be controlled. Zubie comes into play by providing operational efficiency. Panel members expressed how Zubie has given them confidence in what's happening with their vehicles. Rich Sinda, President of the Hertz franchise in Athens, Georgia, shared that his business knew Zubie would be key to recovering stolen vehicles but another surprising benefit they encountered was Zubie also helped with inventory management. In the Zubie system, his team knew where the vehicles were located, and if they were ready to be leased. This is just one great example of how multifaceted Zubie is, allowing them to clear excess inventory and generate revenue.
Improving Operations with Fleet Management
After diving into the specifics of how the panel utilizes Zubie's features, Gary asked if anyone had advice for implementation for customers considering telematics. For those new to telematics, it can seem like a complicated process. One way Zubie has differentiated itself from other fleet management providers is the simple approach Zubie takes to everything from installation to implementation and analysis. Ryan Honig, General Manager of Avis in Springfield, Missouri, is currently in the middle of the implementation process and he shared his experience so far.
"Zubie is a must. The devices are very easy to install; it only takes less than 10 minutes to get them up and running. Frankly, within the first month and a half of installing several devices, we realized a return simply by not having our cars stolen and paying for recovery. Zubie has paid for itself right there."
As businesses transition into the new normal of life in the age of COVID, Zubie provides the confidence needed to navigate the unknown and make smart decisions that have a large impact. Rental businesses that utilize Zubie can be more diligent and efficient while operating their fleet by gaining awareness of where their vehicles are located, monitoring their vehicle's usage, and quickly recovering stolen or lost vehicles. ICRS was a great opportunity to hear directly from Zubie customers about how they're using telematics to their advantage and utilizing all of these benefits. Download one of our white papers to learn more about how Zubie is helping car rental operators use GPS fleet management to protect their vehicles and optimize their businesses.
Visit our website to learn more about how Zubie can help you navigate the new normal.